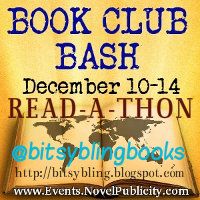 I love a good read-a-thon! And really, I can't pass up an excuse to loose myself in books for a good length of time!
Novel Publicity is hosting a Book Club Bash event December 10-14. In conjunction with this event, Bitsy Bling Books will be co-hosting a READ-A-THON!!! Yipppeee!!! There are several ways to participate so why not join in the fun? You can do as little or as much as you have time for AND of course, prizes will be offered!
WHAT IS THIS BOOK CLUB BASH and READ-A-THON all about?
The love of books! And finding other people who like to talk about them too is always a thrill. Be it online, in person or some other kind of book club, we think the chance to sit down and dig your teeth into a good book with a group of people is one of the best parts of reading.
The prizes lined up so far include:
A custom book club guide from Novel Publicity
Signed Paperbacks
Gift Bags with Swag and Books
The chance to name a character in an upcoming book
Manuscript Feedback by one of our authors
An Amazon Gift Card (amount to be determined)
Skype Session with an author for a book club or interview
Go here to sign up!!!