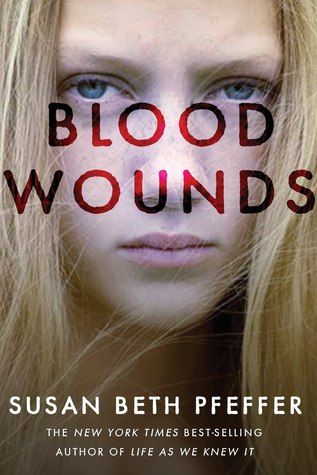 Title: Blood Wounds
Author: Susan Beth Pfeffer
Series:
Publisher: Harcourt Children's Books
Date: September 13th 2011
Pages: 248 pages
ISBN: 9780547496382
Source: publisher
Purchase:
Blood Wounds
Blood can both wound and heal . . .

Willa is lucky: She has a loving blended family that gets along. Not all families are so fortunate. But when a bloody crime takes place hundreds of miles away, it has an explosive effect on Willa's peaceful life. The estranged father she hardly remembers has murdered his new wife and children, and is headed east toward Willa and her mother. Under police protection, Willa discovers that her mother has harbored secrets that are threatening to boil over. Has everything Willa believed about herself been a lie? But as Willa sets out to untangle the mysteries of her past, she also keeps her own secret—one that has the potential to tear apart all she holds dear.
My Thoughts:
I've had this ARC on my shelf for a while now. I couldn't bring myself to read something that seemed so heavy. But after picking it up I realized that it wasn't as heavy as I thought it would be. Willa is really your average teenager of a blended family. Her mother, stepfather and stepsisters all seem like one big happy family; until the new that Willa's father killed his wife and two of his three daughters. Everyone thinks that "Budge" is on his way to Willa and her mother, though they aren't sure what for.
We go on the journey with Willa as she heads to the place where she was born to attend the funerals of the sisters she never knew. With so much of that part of her past not remembered, since she was like 4 when her mother got them out, it is hard for her to be there. She wants to know what her father was like in the years that she didn't know him and while there she meets the older brother that she doesn't remember having.
Back home after the funerals, Willa realizes that things aren't as perfect and "happy" as she thought. Everything is changing and Willa seems to be getting the short end of the stick as always. When Willa is informed that she has the chance to accept an inheritance she isn't really sure what to do. In the end I believe she made the right decision and I was happy with the way the book ended.