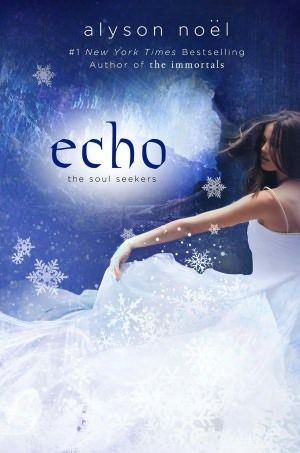 Title: Echo
Author: Alyson Noel
Series: The Soul Seekers #2
Publisher: St. Martin's Press
Date: November 13th 2012
Pages: 340
ISBN: 9780312664879
Source: Library
Purchase:
Echo (The Soul Seekers)
She inherited a magical destiny—and a mission to stop a powerful family of dark sorcerers. She never expected to fall in love with one of them.

There's still so much Daire Santos has to learn about being the last Soul Seeker….and about herself. As her magical training becomes more intense, so does her relationship with Dace. But when she learns that his connection to the evil Richter family goes far deeper than she ever imagined, she begins to question if love really can conquer all.

Dace is painfully aware that he wouldn't exist if it wasn't for the Richters' dark magic—and now his brother Cade is determined to use his love for Daire against him. Dace is willing to sacrifice anything to protect the girl he loves —including his own life. But will Daire allow it? And what if defeating Cade costs not only his life, but his soul too?

Enchanting, haunting, romantic, Echo is the second book in the Soul Seekers series by #1 New York Times bestselling author Alyson Noël!
My Thoughts:
Fated already had me hooked, and I couldn't wait to crack this one open. I just had to know what Dace being the "Echo" meant and I just knew I would find out!
I can say that I was not disappointed in the least, though I was upset to learn exactly what Dace being Cade's echo meant. Things seemed a little rushed in this book, and I can only assume that is due to wanting things to progress enough for the third installment due in a few months.
Paloma is almost back to herself minus her majick and while Daire has seemingly been lax in her training it doesn't seem as though a whole bunch of time has passed since the ending of the first book and the beginning of this one; Daire's training soon picks up. While Cade has been mostly absent in the first few chapters, we soon see him and all the devastation he has been causing in the Lowerworld. Things are dying and being poisoned at an alarming rate and Daire knows that she must find and rid the Lowerworld of the undead Richter's that Cade unleashed during the last book.
While searching for the undead Richter's Daire happens upon Dace at their spot "the Enchanted Spring" and while mostly everything around them seems to be dying it is as thought the spring has healed itself. The two end up taking their relationship a step further and then the spell is broken by Cade and they realize that everything they were seeing was just what Cade wanted them to see.
After the run in with Cade, Dace and Daire realize that them being together and loving each other is really just making Cade stronger, so Dace takes it upon himself to put them on a break. This of course devastates Daire, whom has never had a boyfriend and is afraid that now that Dace has gotten what he wanted that he is done with her. Though as it turns out, neither can really stay away from the other.
They both continue to make trips to the Lowerworld where Dace ends up hurt more times than not, and Daire just can't seem to reconcile what she needs to do with the small amount of majick and strength she believes she possess. While Dace believes that he holds enough majick to do what must be done to protect Daire, which he believes is to kill Cade.
Things pick up again and Daire finds and kills the undead Richter's and you start to see the Lowerworld heal itself. Then she happens upon Cade, who isn't the least bit pleased that she has stopped his efforts at dominating all levels of the world. Cade attacks and of course here comes Dace to the rescue.
Without saying too much to give the ending away, if you are invested in the characters, have some tissues handy, and run, don't walk to get the third book Mystic due out May 2013!!!!