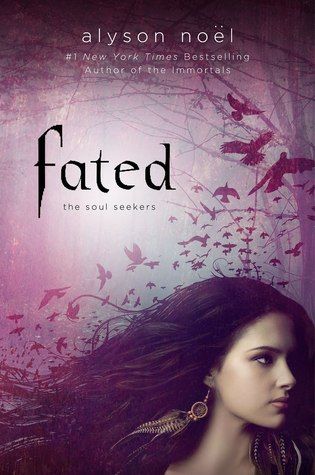 Title: Fated
Author: Alyson Noel
Series: The Soul Seekers #1
Publisher: St. Martin's Press
Date: May 22nd 2012
Pages: 352
ISBN: 9780312664855
Source: Library
Purchase:
Fated (Soul Seekers)
I shove through the crowd, knocking into girls and bouncing off boys, until one in particular catches me, steadies me.
I feel so secure, so at home in his arms.
I melt against his chest-lift my gaze to meet his. Gasping when I stare into a pair of icy blue eyes banded by brilliant flecks of gold that shine like kaleidoscopes, reflecting my image thousands of times.
The boy from my dream.
The one who died in my arms.
My Thoughts:
I wasn't too sure about this one when I checked it out. I mainly grabbed it for the cover alone, though I can honestly say that I am super thrilled that I did!
I loved Daire, Dace, Xotichl and most of the other characters in the book. I even had a soft spot for Cade, as much as I hate to admit it! Learning about the visions and dreams that have been haunting Daire, was a little shocking at first, and how everything happened after the latest vision was beyond messed up, I still knew that once her mother took the call from Paloma, I was hopeful that things would look up for Daire quickly.
Daire is sixteen and has just been told that she comes from a long line of Seekers. This at first prompts her to run away like her father before her did, though there is an accident and she ends up staying and learning what she must. She has been having the same dream featuring the same two boys; whom happen to be twins, and she realizes that one of them is "fated" to be with her. She tries to keep her distance, though it proves to be harder than she thought.
While trying to learn everything she can about being a Seeker, she has to end up battling with the undead thanks to Cade; the evil twin" in order to save Paloma's soul. Dace and Daire find her soul and bargain to get it back. Once everything has settled, Dace and Daire return to Paloma's house to find all of their friends there, and once Daire senses Cade's presence she goes out to speak to him and she hear's once again that Dace is the Echo…
I am so glad that I already checked out the second book in the series, otherwise I would be scrambling to get my hands on it. The writing style of Fated was amazing, and I had no problem getting sucked into the story. I cheered everytime Daire made progress and cringed when Cade was being particularly evil.