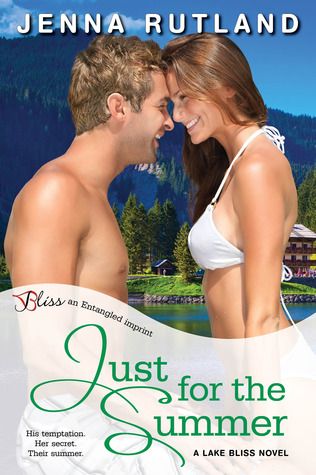 Title: Just for the Summer
Author: Jenna Rutland
Series: Lake Bliss #1
Publisher:Entangled: Bliss
Date: March 11th 2013
Pages: ebook, 131 pages
ISBN:9781622668786
Source: NetGalley
Purchase:
Just for the Summer (Lake Bliss)
Dani Sullivan has come to Lake Bliss to write her latest cookbook...and to see if the baby she gave up for adoption eight years ago is happy. When she's done with her reconnaissance, she plans to return to Detroit without any doubts about past decisions. But when she sees her little boy—indeed happy despite living with his single dad—she finds she can't keep her promise to stay away from her son or from his flirtatious father, who has no idea of her true identity.

Recently divorced sheriff Matt Reagan is ready for a new relationship, but he doesn't want short-term—his son needs permanence, and so does Matt's heart. Unfortunately, it's the smart-mouthed and sinfully sexy Ms. Sullivan who catches his eye. But when Matt learns Dani's secrets, will he still want her to stay? Or will her chance for love last just for the summer?
My Thoughts:
Loved the story line. I know that most mothers once they do a closed adoption, often think about how their baby ended up. Dani is no exception, she found out where her son went and figured that she would peek in and just make sure that he was doing ok. What she didn't plan on was falling for Sam's father Matt. Matt falls for Dani too and once Dani tells him towards the end of the book that she is Sam's biological mother, Matt has the predictable reaction, though of course things work out in the end. The writing was great and I was easily drawn into the story.