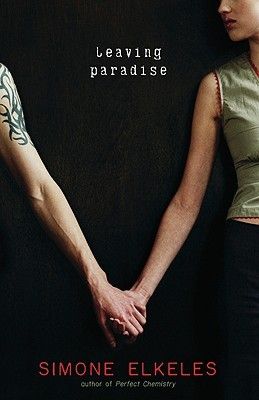 Title: Leaving Paradise
Author: Simone Elkeles
Series: Leaving Paradise #1
Publisher: Flux
Date: April 8th 2007
Pages: 303 pages
ISBN: 9780738710181
Source: purchased
Purchase:
Leaving Paradise
Nothing has been the same since Caleb Becker left a party drunk, got behind the wheel, and hit Maggie Armstrong. Even after months of painful physical therapy, Maggie walks with a limp. Her social life is nil and a scholarship to study abroad—her chance to escape everyone and their pitying stares—has been canceled.

After a year in juvenile jail, Caleb's free . . . if freedom means endless nagging from a transition coach and the prying eyes of the entire town. Coming home should feel good, but his family and ex-girlfriend seem like strangers.

Caleb and Maggie are outsiders, pigeon-holed as "criminal" and "freak." Then the truth emerges about what really happened the night of the accident and, once again, everything changes. It's a bleak and tortuous journey for Caleb and Maggie, yet they end up finding comfort and strength from a surprising source: each other.
My Thoughts:
I've had this one sitting on my shelf for over a year now. I picked it up last night after I finished unpacking to help me relax and I am so glad that I did! i literally couldn't put it down.
The chapters switch back and forth between Caleb and Maggie's point of view and we get to see just how the accident has affected both of them. With Maggie going through multiple surgeries and physical therapy over the last year and Caleb being granted early release from the juvenile detention center, we get to see how being thrown back into high school affects them both.
Caleb was your average good looking jock, while Maggie was Caleb's twin sisters best friend and popular by default and her ability on the tennis court. A year later and everything has changed, Maggie is no longer popular, no longer star of the tennis court and she walks with a limp. Caleb, is now an ex-con and while his old friends don't seem to have a problem welcoming him back into the fold, they keep bringing up the accident, the one thing he really wants to forget about.
Maggie and Caleb run into each other a few times, and while Maggie is terrified of him, due to old nightmares and just the fact that he ran her over with his car, Caleb really wants her to forgive him. He paid his debt to society and now just wants to be free. They try to avoid each other as much as possible, but living in a small town and going to the same high school makes that hard for both of them.
When they end up working together at this old lady's house they start to grow closer. Both of them think that it is a bad idea, though they can't seem to not be drawn to each other. Things come to a head and they "split" up. Caleb ends up finishing the work he was assigned and completing his community service requirements, which gets him released. Things at home are not great for him, and we learn a secret that really changes EVERYTHING, but Caleb continues to guard this secret and ends up leaving home and Paradise. Maggie realizes what happened the night of the accident, but doesn't let it change things. The ending really has me wishing that I had the next book, and I am anxiously awaiting getting it in my addicted little hands!