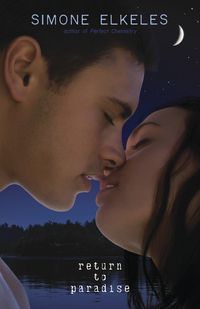 Title: Return to Paradise
Author: Simone Elkeles
Series: Leaving Paradise #2
Publisher: Flux
Date: September 1st 2010
Pages: 302 pages
ISBN: 9780738718682
Source: purchased
Purchase:
Return to Paradise
Caleb Becker left Paradise eight months ago, taking with him the secret he promised to take to his grave. If the truth got out, it would ruin everything.

Maggie Armstrong tried to be strong after Caleb broke her heart and disappeared. Somehow, she managed to move on. She's determined to make a new life for herself.

But then Caleb and Maggie are forced together on a summer trip. They try ignoring their passion for each other, but buried feelings resurface. Caleb must face the truth about the night of Maggie's accident, or the secret that destroyed their relationship will forever stand between them.
My Thoughts:
I wasn't as into this book as I was the first one. Caleb has gotten into trouble again, and once again; he really didn't have anything to do with it. He was just in the wrong place at the wrong time. However, Caleb is now 18 and an adult in the eyes of the law, so instead of juvie, he would be looking at big boy jail time. He is once again saved and is "given" the option to join the RE-START Program and travel with other offenders and share his story, or go to jail. Once at the RE-START meeting place he realizes that Maggie is there and here is where we start the alternating chapters again. I still liked seeing things from both characters point of view, though things seemed a little too drawn out in this one. Maggie and Caleb were at each other's throats more than was really necessary. But as always things got hot and heavy between them, though they both didn't want them to. Maggie kept trying to show Caleb that she had moved on and Caleb was playing the jealous part to a T!
I am happy to report that the incident from the first book was finally resolved in this one and things seem to be on track for everyone in the book.