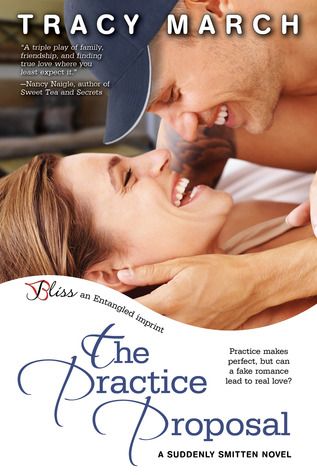 Title: The Practice Proposal
Author: Tracy March
Series: Suddenly Smitten #1
Publisher:Entangled: Bliss
Date: March 11th 2013
Pages: ebook, 229 pages
ISBN: 9781622668762
Source: NetGalley
Purchase:
The Practice Proposal (Suddenly Smitten)
Liza Sutherland isn't looking for love. Not from a charity-auction date she didn't even bid on and especially not with Nationals first baseman Cole Collins, the guy she obsessed over as an awkward teenager. She won't get involved with a notorious player, no matter how attractive Cole is.

Cole Collins is up for contract renegotiation, but after too many late-night parties, he'll need some positive publicity before he can make the roster. His agent, Frank, pitches Liza as the perfect prop…only Cole didn't account for Liza no longer being just a teenager with a crush. She's gorgeous and smart and he's instantly hooked.

When Frank makes Liza a deal she can't refuse—a bet she will fall in love with Cole or a cool half mil goes to charity—the game is on. But neither bet on the real feelings that surface. Could a fake fling turn into an official forever?
My Thoughts:
This seems to be the new theme with books I have read over the past few months. It's always the guy that needs a fake fiance for something or other and they end up falling for each other. This one really isn't much different, baseball great Cole Collins donated a date to a charity auction and Liza won that date thanks to her mother's bid. Liza and Cole know each other from when they were teenagers, and haven't really talked since then. Liza thinks that her crush is over with, but you can tell that deep down it is still there. Starts off that Liza doesn't really want to "date" Cole, then his Agent Frank promises to give her a $500,000 donation to BADD if she dates Cole and doesn't fall for him. Though as we all know, things begin to heat up between the two and of course they each fall for the other. You'll have to read it to find out exactly what happens!