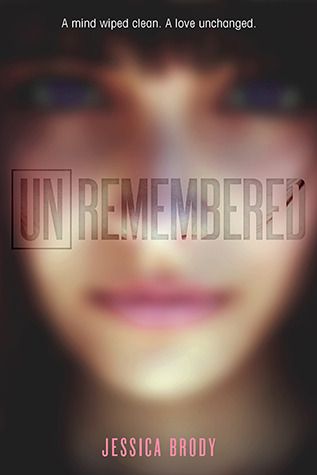 Title: Unremembered
Author: Jessica Brody
Series: Unremembered #1
Publisher: Farrar, Straus, & Giroux (BYR)
Date: March 5th 2013
Pages: 320 pages
ISBN: 9780374379919
Source: Publisher
Purchase:
Unremembered (Unremembered - Trilogy)
The only thing worse than forgetting her past... is remembering it.

When Freedom Airlines flight 121 went down over the Pacific Ocean, no one ever expected to find survivors. Which is why the sixteen-year-old girl discovered floating among the wreckage—alive—is making headlines across the globe.

Even more strange is that her body is miraculously unharmed and she has no memories of boarding the plane. She has no memories of her life before the crash. She has no memories period. No one knows how she survived. No one knows why she wasn't on the passenger manifest. And no one can explain why her DNA and fingerprints can't be found in a single database in the world.

Crippled by a world she doesn't know, plagued by abilities she doesn't understand, and haunted by a looming threat she can't remember, Seraphina struggles to piece together her forgotten past and discover who she really is. But with every clue only comes more questions. And she's running out of time to answer them.

Her only hope is a strangely alluring boy who claims to know her from before the crash. Who claims they were in love. But can she really trust him? And will he be able to protect her from the people who have been making her forget?

From popular young adult author, Jessica Brody comes a mesmerizing and suspenseful new series, set in a world where science knows no boundaries, memories are manipulated, and true love can never be forgotten.
My Thoughts:
It took me a while to get into this one. We start off meeting "Violet"after she is discovered on the wreckage of a plan that went down in the ocean. She had no memory of how she got there or who she is, actually she doesn't seem to remember anything. She spends time in the hospital, and while everyone is looking for her next of kin, and her photo is plastered all over the news; no one seems to be stepping forward to claim this 16 year old girl. "Violet" is so called because of her unusual eye color.
Violet has a visitor while in the hospital, but trying to fight against the drugs given to her to help her sleep isn't easy and she starts to think that it wasn't real. Once she is released from the hospital, she sees someone that she thinks was the visitor from her room, though she isn't sure and she is frightened of him. She is placed with a foster family that lives out in a little town. This is where things start to pick up a little bit.
Violet meets her foster parents son after he returns from camp. Violet, ends up going to the store with her foster mother, and there she runs into this mysterious guy again, he tells her what her name really is, and that she was never on that plane. While "Violet" whom we now know was called Sera, short for Seraphina; doesn't really belive the boy, she convinces her foster brother to go with her to the airport, to see if she was really on that plane.
I got kind of bored with the story at this point and stopped reading for a few days, and then went back to it. Long story short, Sera starts to believe what the boy Zen is telling her and she ends up at a diner where she is chased. She is captured, and in the end released by one of the guys who created her. So she isn't fully human, she's more super human. But then things change again! She leaves with Zen and he helps her recover some of her memories, using a device sort of like a thumb drive for a computer. In the end Sera believes everything that Zen has told her and they run off together, only to have Zen captured and Sera eventually give herself up to save him. I really hope that this turns out to be more than just one book, I can't stand not knowing if the two love birds make it to where they were originally heading and if the people that created Sera continue to look for her.